Frequently Asked Questions (FAQ)
What is the SeekaHost Blog hosting site?
The SeekaHost Blog hosting site provides everything you need to host domain names and get online with WordPress CMS (Content Management System). The Blog hosting control panel is the easiest to use solution for anyone to get a WordPress blog up and running on the web in less than 60 seconds. The speed matters to us and we know you will like the speed when it comes to hosting your WordPress Blogs.
Can I host Private Blog Networks via the control panel? 
Yes, you can host private blog networks using the multiple IP Aka PBN hosting plans. Your blog will be hosted on multiple class A, B and C Ip hosting. SeekaHost is the world's most used PBN hosting services.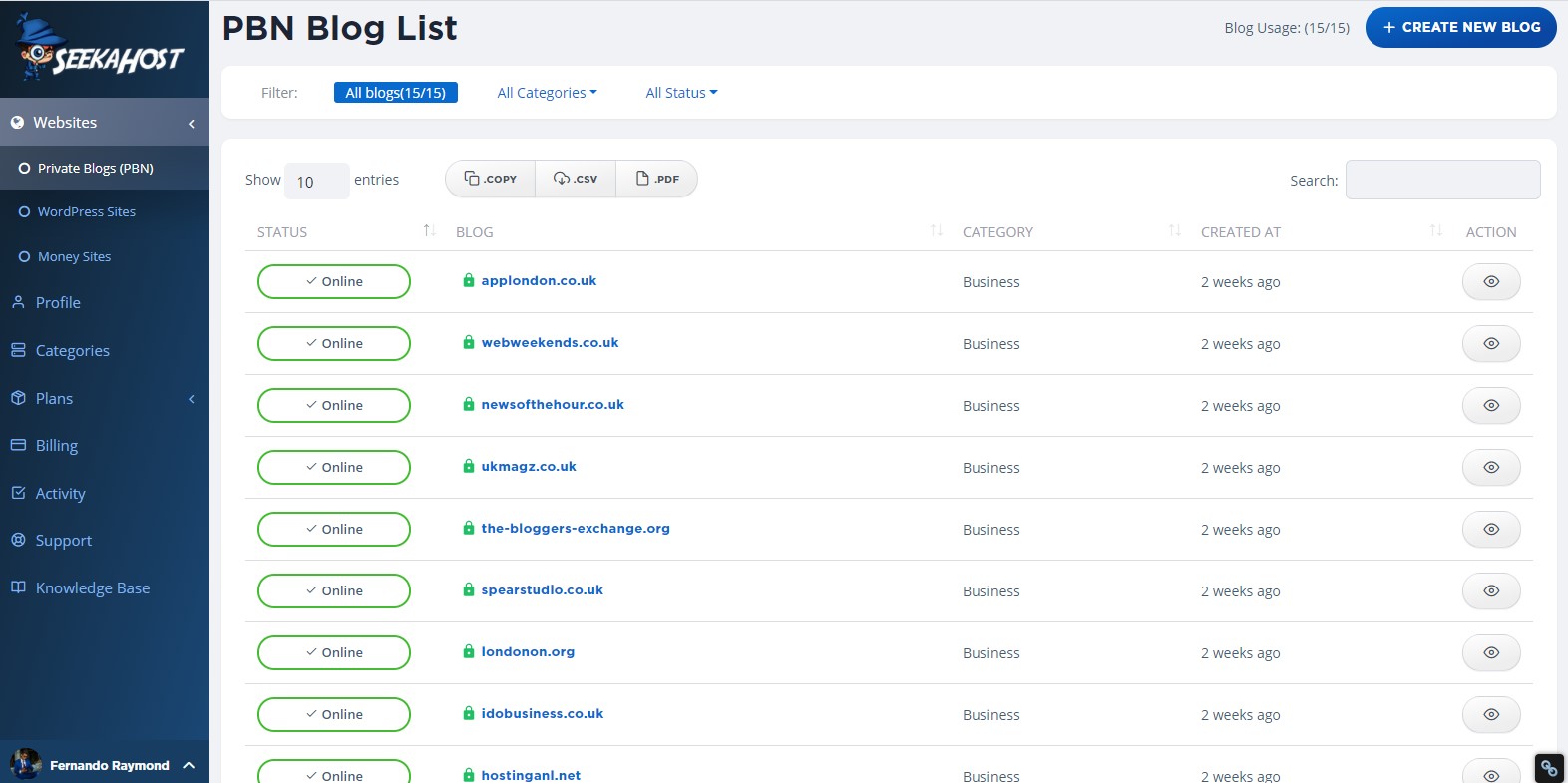 How long is the free trial? 
The free trial is 7 days and after the 7 days, you will be charged according to the package you have joined. If you wish to cancel before the 7 days, you can cancel it from your client area dashboard on the control panel.
Can my Blog hosting plan be changed after purchase?
Yes, you can upgrade or downgrade your blog hosting plan at any time with one click from the control panel. If you need support or advice just open a support ticket and our staff will do that for you.
What does SeekaHost Blog Hosting site offer? 
One-Click WordPress blog hosting solution with multiple IP address class, A, B and C hosting plans for private blog network builders and bloggers who need unique IPs for each of their blogs. The money site data analytics and blog data stats inside the Blog hosting control panel will help you grow your blogs with data drives information.
Can I test/trial the Blog hosting site control panel? 
Yes, you can create a free account and log in to our control panel and see what is available and how you can use it. You have to sign up for a plan if you want to host a private blog or normal WordPress blog.
When will I be able to create a Blog?
Once you have made the payment for the chosen hosting plan, you will get an email confirming your account activation. And you can start creating Blog/s.
What are the locations of your servers?
Our European servers are in London, United Kingdom, France, Germany, Netherlands. The US and Canada, as well as the Australian and Singapore Servers and recently the Indian server hosting, was added to our dedicated server locations.
What type of web hosting servers do SeekaHost use? 
We use a wide range of servers from various locations to facilitate the multiple IP server location needs of our private blog network hosting clients. Our own data centre servers, Amazon web services are the leading web server solutions we are using while adding more servers from high-performance data centres.
Do you offer support 24/7?
Yes, we do offer 24/7 live chat and phone support to help you in anything fro, buying a blog hosting plan, setting up the blogs and tips on how to grow your private blogs.